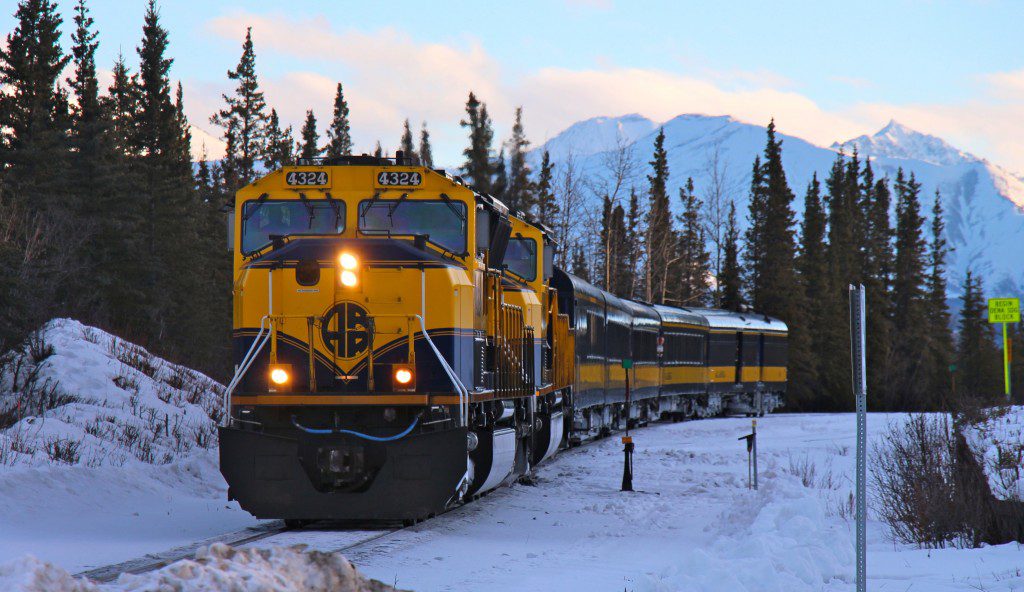 Alaska Railroad – Reserve with us!
Check here first before you make train reservations!
For great scenery and an authentic Alaskan experience, the Millers think the Alaska Railroad should not to be missed. Travel in style and comfort on the AK RR to any of these places: Seward, Girdwood,  Portage, Whittier, Anchorage, Wasilla, Talkeetna, Denali National Park, or Fairbanks.  Save 5% if the Millers book your tickets.
Tell the Millers which days you want to travel; where you want to go; and the names of your passengers. They will book your tickets and refund 5% when you are in Denali.  The Millers meet your train at the Denali Depot if you rent cars from Keys to Denali, Car Rentals. Pick up and drop off services are free with rental cars, or have a local taxi service meet you.
Book either Adventure Class or Gold Star.  For more information .
If you do not want to consider the AK RR for main transportation, plan a small day trip on the AK Railroad in the summer or winter.  Take the Hurricane Turn Train if your schedule permits to see real Alaska.
Ask the Millers for their train tips.  They have ridden almost every mile of the track.
The Alaska Railroad operates year-round, regularly scheduled passenger service connecting South Central and Interior Alaska.  Winter Flag stops in Healy or any place along the route.
Check with the Millers first before reserving your RR tickets for a 5% savings!
Free pick up and delivery at Denali Depot with Keys to Denali, Car Rentals
Dining service available on the train
Great views and an authentic Alaska experience
Carefree way to travel while enjoying your Alaskan vacation